RECORDS
OF THE
MEN OF LOCHBROOM
WHO FELL IN THE EUROPEAN WAR
1914 - 1918
COLLECTED AND ARRANGED BY
MRS. FRASER
OF LECKMELM
PRINTED FOR PRIVATE CIRCULATION ONLY
GLASGOW
ROBERT MACLEHOSE & CO. LTD.
THE UNIVERSITY PRESS
1922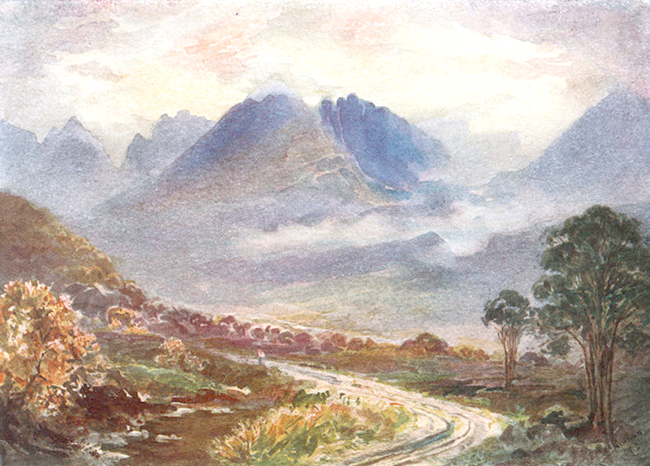 AN TEALLACH
From a painting by Finlay MacKinnon, R.A.



In this Book are recorded
IN REVERENT AND UNDYING REMEMBRANCE
THE NAMES OF THE MEN OF LOCHBROOM
WHO LAID DOWN THEIR LIVES FOR THEIR KING AND COUNTRY
IN THE EUROPEAN WAR OF 1914 – 1918
And it is dedicated
WITH DEEPEST GRATITUDE AND WARM APPRECIATION
TO THEIR SURVIVING COMRADES, WHO, HAVING SHARED IN THE SAME
HARDSHIPS AND DANGERS AS WERE THE LOT OF THE DEPARTED
HEROES OF LOCHBROOM, HAVE BEEN SPARED TO BENEFIT
THEIR NATIVE LAND STILL FURTHER BY THE HIGH
EXAMPLE OF THEIR LIVES, WHICH HAVE BEEN
ALREADY GLORIOUSLY DISTINGUISHED BY
GALLANT DEEDS IN THE PAST
Note by A. F.
THESE Records of the lives and deaths of the fallen heroes of Lochbroom have been compiled by Edith, wife of Major Fraser, C.M.G., O.B.E., of Leckmelm, Lochbroom, Ross-shire.
IN order to secure accurate information regarding every case, Major and Mrs. Fraser have addressed full enquiries to the surviving relatives, and have visited every home in Lochbroom which has lost a son or brother. (Widely scattered these homes are, along a sea coast of some fifty miles).
To Major and Mrs. Fraser this work has been a labour of love, undertaken in accordance with the spirit of the command addressed to them by H.M. King George V. on the occasion of the expression of his sympathy in the loss (in action) of their son, Captain Andrew Fraser, M.C.: "Let those who come after see to it that their names be not forgotten."